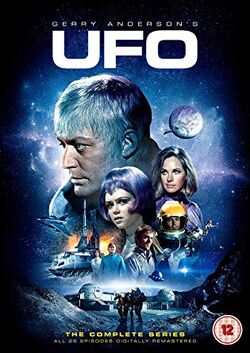 UFO, Gerry Anderson's very first live-action television series production, was centred around the activities of the S.H.A.D.O., or Supreme Headquarters of the Alien Defence Organization, in its fight to defend Earth from the brutal attacks of a dying alien race that is harvesting human organs to survive.
Production
[
]
UFO was the work of Gerry Anderson, Sylvia Anderson, and Reg Hill, who commenced their work for Lewis Grade's and Martin Starger's ITC Entertainment on the production in 1969, the year the real United States Air Force closed the actual Project Bluebook.
Background to the production
[
]
The Andersons had long wanted to work in live action, and UFO gave them their first chance to do this with series programmes. (Their marriage would fall apart, quite acrimoniously, during the production of their second live-action series-programme production, Space: 1999, as would Gerry Anderson's professional relationship with ITC Entertainment.)
Fiscally, the programme represented a sufficiently expensive production for some properties to be carried over from Journey To The Far Side Of The Sun, also called Doppelganger, to reduce costs. Amongst these were gull-winged motorcars that had been used in the production. These motorcars were never shown with the doors fully exposed in opened position because they needed an outside operator to open them.
For once, the Andersons had to deal with the temperaments of living actors rather than puppets that could not talk back to them. In the instalment "Mindbender," some of Gerry Anderson's frustrations with this fact actually made their way into George Victor "Edward" Bishop's dialogue.
Episode List
[
]
Errors and Explanations
[
]
Internet Movie Database
[
]
Factual errors
[
]
Gravity on the lunar surface is actually 1/6 of Earth normal.The actor's movements and inertia are all wrong. The base could be fitted with some form of Artificial Gravity System.
Incorrectly regarded as goofs
[
]
Although set (and filmed) in England, all the futuristic cars are left-hand drive, and everyone drives on the right-hand side of the road. (IMDB) Several other series by the Andersons featured the same driving system, presumably because England was predicted to switch over sometime before the future events depicted. Flashback scenes showed the "normal" English driving arrangement.